Last November was held in Dakar capital of Senegal the 4th International Mining conference & exhibition (SIM Senegal 2016).
Silgest Group has attended this fair for the first time as an exhibitor of its three companies: La Herramienta Industrial, specialized in machinery and industrial supply; Pertesa, specialized in the supply of personal protective equipment (PPE) for all kind of industries; and La Herramienta Express, specialized in industrial hardware supplies with very short lead times. It was a very satisfying meeting. In this fair are concentrated all the companies related to the mining of the region. Both mines in operation, as mines in the process of exploration and in the process of establishment.
The Ministry of Mines of Senegal, with its Minister Aly N'Gouille Ndiaye at the forefront, is making a very strong commitment to the development of the mining sector, due to the great amount of resources of the country as well as the great economic development and the Great amount of employment that is generated in the districts where the mines are installed, and the auxiliary companies. Our representative at this fair, Jorge Pérez, had the opportunity to have an interesting chat directly with him.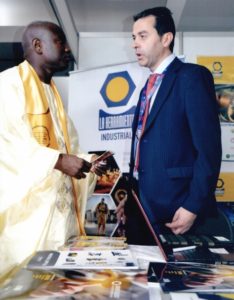 The presence of the Silgest Group has generated great interest since we offer ourselves as a global supplier for any need that a mine can have, due to the great diversity of products offered by our three specialist companies. La Herramienta Industrial, leading supplier of industrial machinery; Pertesa, in everything related to Personal Protective Equipment (PPE) for the worker; And La Herramienta Express, company specialized in hardware and industrial supply.
Our presence at this fair has been the first step towards our entry and growth in the countries of ECOWAS (Economic Community of West African States).